Phoenix, AZ Dentist Answers Questions About Benefits of All on Four Dentures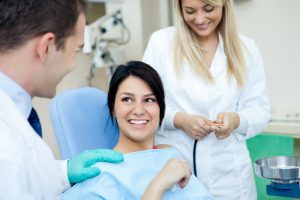 Long ago mankind recognized that having a full set of teeth was essential to survival. Archeological research shows that dentures existed as early as 700 BC. Today we value a complete smile for both esthetics and function. All on Four dentures are among the latest advances in that quest. Dr. Justin Frost greatly enjoys helping his patients in the Phoenix, AZ area enjoy the benefits of this contemporary solution for tooth loss.
What Happens Without Teeth?
Your body is a symbiotic organism. That simply means that each part has a close and mutually-beneficial association with the rest of it. Nowhere it that relationship more obvious than in your mouth.
Teeth allow you to eat well, sending vital nourishment to all parts of the body. You need a healthy mouth to communicate clearly and breathe properly. When a person has no natural teeth, those bodily functions are significantly impaired. There is also a big impact on appearance and self-esteem.
Teeth and bone work together. Strong bone in the upper (maxillary) and lower (mandibular) jaws is necessary to anchor teeth securely in place. In turn, roots that hold teeth in the jaw provide stimulation that keeps bone robust.
Without teeth, minerals in facial bone dissolve into the bloodstream so that they may be used in other areas there is greater need. This process of resorption causes the lower half of the face to collapse. Lips thin and roll inward, as the corners droop. The distance between the nose and chin compresses, and the chin loses definition. Risk of a jaw fracture increases, as well.
What's Wrong With Conventional Dentures?
A well-designed and properly-fitted set of high-quality "floating dentures" is a major improvement over having no teeth. Although diet typically remains limited, dentures restore some chewing function (about 15 percent compared to having your own natural teeth) and improve appearance. With a bit of adaptation, most people can speak normally with dentures – much better than with no teeth.
The problem with conventional dentures – even the best-fitting ones – is the difficulty in keeping them in place. Because this type of denture sits on top of gum tissue, it does not restore the symbiosis between teeth and bone and resorption continues. Over time, structures of the mouth change. Dentures begin to slip, wobble, and lose suction. That reduces comfort and confidence when you smile, laugh, speak, or eat.
How Is All on Four Different?
All on Four dentures are fixed in position with dental implants. An implant is a small screw placed into jawbone, where it mimics the root of a natural tooth. An implant abutment extends beyond gum tissue. The denture has attachment points that fit over abutments, holding an entire arch of teeth with great stability.
A dental implant, topped with a porcelain crown, may be used to replace a single missing tooth. However, the All on Four system uses implants that are specially designed to support dentures. They are precisely sized and angled to provide the necessary traction.
Patients in Phoenix, AZ Enjoy Benefits of All on Four Dentures
No other type of denture looks more natural or feels as secure as an implant-retained denture. Here are some of the additional reasons Dr. Justin Frost's patients at Biltmore Dental Center love their All on Four dentures:
Chewing function improves to 75 percent or more, eliminating most dietary restrictions.
An entire arch of teeth is reinstated with just four implants placed in one surgical session, reducing treatment and healing time.
Even if teeth have been gone for a while, bone grafting usually is not necessary.
In many cases, implants can be placed and "loaded" with a provisional denture on the day teeth are extracted.
Because the upper denture does not require suction, there is no need to cover the palate. Sense of taste and temperature is not impaired, and you speak normally.
The titanium framework is exceptionally strong yet lightweight, for years of comfortable wear. Plus, the denture doesn't look bulky or fake.
A denture can easily be replaced without impact to the implants.
Implants help to retain facial bone for a more youthful appearance.
If you really like your dentures but want a more secure fit, Dr. Justin Frost may be able to retrofit them to work with All on Four implants.
The right dentures make a life-changing difference. Call (602) 704-0659 to schedule a consultation with Dr. Justin Frost at Biltmore Dental Center in Phoenix.